A cyclist with a defective bike is no longer a cyclist. Help in repairing the bike is therefore our number one task. We confident that each workshop should accept all repairs provided you have the necessary tools and skills. By means of small interventions (replacement of tubes, worn tyres, brake blocks, or faulty cables), bike point service, we recommended, ensures that the cyclist with a breakdown can return home quickly and safely.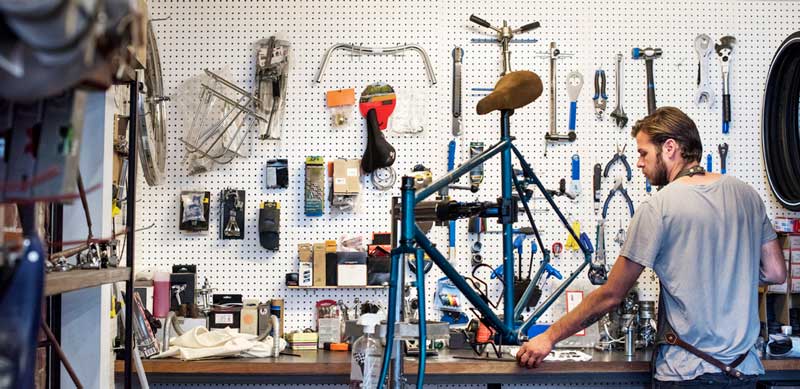 Regular maintenance and repair of your bike are another essential element of safe cycling. Whether you are an expert in key pullers or a weekend warrior, there are a number of options available to you in repair centres.
We are eager to help you to find mechanics who are specialists in different types of bikes. They can carry out maintenance and classic repairs on any type of bike. Moreover, we know how to help you to find different accessories for your wheels.
Bike workshop
While cycling is becoming more and more widespread, there are lots of friendly places to learn how to maintain or have your bike repaired. Our experts offers its members to find a friendly space to maintain, repair, or improve their bikes thanks to the advice of professional bike mechanics and quality tools at their disposal.
Joining bike workshop is a great way to become a bike mechanic. But you can also refer to online tutorials to learn the basics of cycle mechanics. Or even carry out more complex repairs.
Bike repair shop service is based on 4 main axes:
Offering a bicycle self-repair space run by a professional bicycle mechanic
Selling new and second-hand bicycle parts and accessories at attractive prices, as well as second-hand bicycles
Repair bicycles for individuals and companies
Training in bicycle mechanics (non-degree courses at first)
Repairing yourself
In open workshops, you can do it yourself! Professional tools and parts (new and used) are at your disposal. Has your bike's mechanics not yet revealed all its secrets? Learn more about how your bike works and how to use the tools. Take advantage of the support and advice of experienced mechanics online.