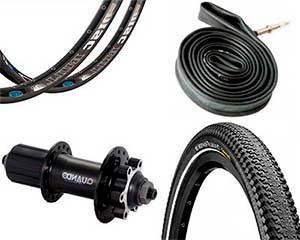 Rusty handlebars, worn brakes, bent wheels… These small defects increase the risk of accidents and can permanently immobilise your two-wheeler. It is, therefore, best to correct them quickly. If you know how to use a pedal spanner or chain drive, you can repair your bike yourself to save on repair costs. However, for some repairs, it is advisable to call in a specialist bike repair shop. Let's take a look at what you can do yourself and what you should leave to a specialist.
Do it yourself or have it repaired?
There are certain defects that must be corrected immediately. For example, loose screws that are dangerous when riding or rust that can cause the frame or handlebars to break if it spreads.
Repairing your bike yourself can save you money. Some repairs can easily be done by yourself. However, you should not underestimate the expertise and experience required to repair a bicycle. More extensive repairs and complex work on vital parts of the bike, such as brakes or derailleurs, should be carried out by a bicycle repair shop specialist. Incorrect adjustment of precision components can lead to an accident.
Simple repairs that can easily be carried out even by novices include:
replacing the brake pads
replacing the chain and lubricating it
repairing the inner tube
changing the tyre
repairing small impacts
People with more solid knowledge can also carry out the following repairs:
replacing the chain
adjusting the length of the chain
adjusting the handlebars
bearing and hub adjustment
All other repairs should be carried out by a bicycle repair shop professional. Depending on the case, he or she will either carry out the entire repair or check and, if necessary, improve the repair you have made. Unfolding a wheel, for example, is easy to do: simply locate the spoke gap and tighten or loosen the spokes concerned. Removing a wheel hop, on the other hand, is more complicated. To do this, several spokes must be tightened and loosened at the same time and the rim and nipples must be adjusted – operations that require skill and patience. It is best to consult a bicycle repair specialist if there is a lot of wobbles, especially if the wheel does not turn at all, for example after an accident or because you have driven into a pothole. Correcting a figure-eight requires special tools and an expert eye – a poor fit could cause parts to break.
Finding a bike repair shop
If your knowledge is not enough or the repairs are too extensive, you will have to go to a repair shop. Professional repairers have special tools and a stock of spare parts: they can repair different types of bikes quickly.
Which bike repair centre is good?
Always go to a specialist repair shop. To become a bike mechanic, you have to complete a recognised training course that takes several years. Mechanics must be properly qualified and have sufficient experience. Another important point is that you should contact a bike mechanic who specialises in the type of bike you have. This is not important for city bikes or standard bikes. But the repair of triathlon bikes, mobile bikes, and recumbent bikes requires specific knowledge and special spare parts.
Take your bike with you to the first service, so that you can find out what repairs need to be made and how much it will cost. The mechanic will be able to identify the cause of the problem, which will give you an idea of the professionalism of the workshop. It is a good sign, for example, if the mechanic looks at the whole bike instead of just the problem area. Brakes, handlebars, derailleur, and bearing play are the points that should be checked.
Choosing the right repair shop
Find out in detail about the various services included in the repair before you decide. Some bike repair shops include, for example, a complete overhaul of your bike or provide you with a spare bike until the repair is complete.
To avoid waiting, make an appointment when you come to collect your bike. The length of time your bike is out of service depends on the severity of the breakdown, but also on other factors.
Repairing your bike yourself
With a little know-how and the right tools, you can repair the bike yourself.
Tools for repairing your bike
It's good to have some basic tools and a few essential spare parts on hand if you enjoy cycling. The following are part of the basic equipment:
a pump
spare inner tubes and a repair kit
a set of hexagonal spanners
a spare chain link
spoke spanner
tyre iron
slotted screwdriver
There are many special tools for more complex routine repairs. Here are the minimum requirements:
pedal spanner
tyre iron
wheel centring tool
Also, invest in a repair kit to take with you on your trips. These kits contain mini multi-tools that are practical because they take up little space. You can attach them to the saddle or luggage rack of your bike. If your bike breaks down, you'll be able to carry out a temporary repair. When you get home, you should then carefully inspect your bike and, if necessary, carry out a more extensive repair
Repairing your bike – Tips for a successful repair
If you are not sure whether you have carried out the repair correctly, contact a cycling association, which can give you some tips and tricks and enlighten you about the condition of your bike.
A bike stand is very useful for repairs: it holds the bike firmly while you work and allows you to remain in a comfortable position.
A few simple steps can reduce the risk of breakdowns and limit repairs. To prevent precision mechanical parts from becoming dirty, clean and grease them frequently. Also, check tyre pressure regularly to avoid punctures. Regular maintenance will allow you to identify weak points in your bike in good time.
Until the end of the year 10% discount on bike maintenance

Bicycle repair shops near me
Choose the nearest bice repair shop from the least below.
Edmonton
Cranky's Bike Shop
540 Riverbend Square NW, Edmonton, AB T6R 2E3
Bike Edmonton
SOUTH — 8001 102 ST, DOWNTOWN — 10612 105 AVE, EDMONTON, AB
Vancouver
Bikre Repair Center
47 W Broadway Vancouver BC V5Y 1P1, Sidesaddle
3469 Commercial Street, Vancouver, BC
Velofix
303 West 5th
Vancouver, BC
Montréal
Bikurious
169 Ontario Est
Montréal, QC, H2X 1H5
Mecano Cycle
1619 rue william, suite G10B
Montréal, QC H3J 1R1
Toronto
Pedalinx Bike Shop
TORONTO, 531 College Street
Toronto, ON M6G 1A8
Cyclepath Norco
2106 Yonge St
Toronto, ON, M4S 2A5